EEUU autoriza la venta de la unidad de IBM de servidores x86 a Lenovo, para concentrarse en recordar los buenos viejos tiempos, chiste chiste, en realidad para concentrarse en Big Data. Una tendencia relacionada con la Internet de las cosas (IOT) pero concentrada en el procesamiento, análisis y obtención de conclusiones de los billones de datos relevados por la IOT.
Twitter cambia sus políticas y ahora los Twits marcados como favoritos por las personas que seguimos aparecen en nuestra historia como si hubieran sido retwiteados.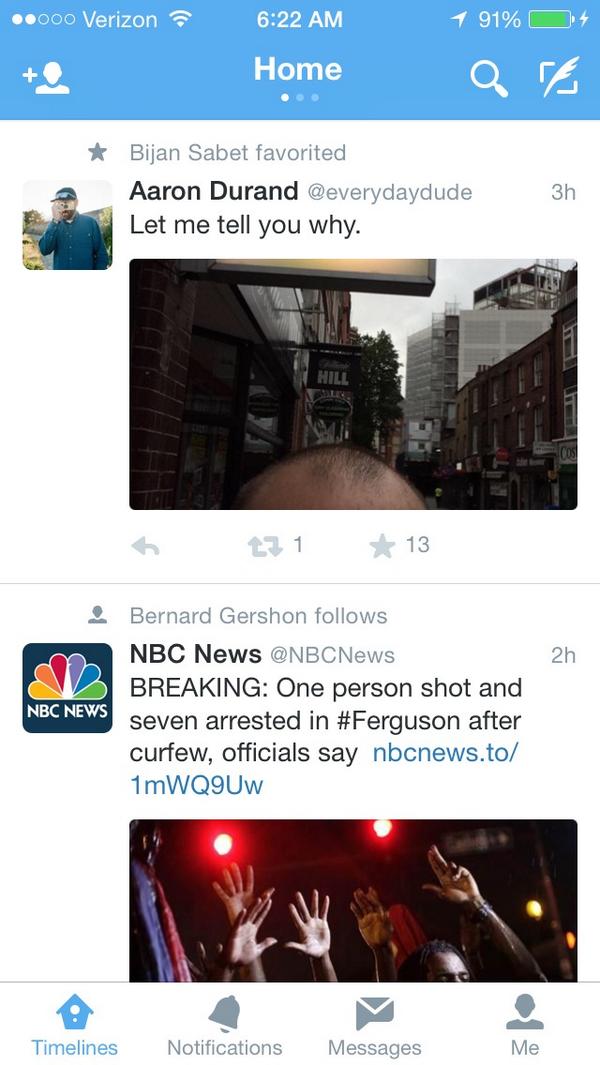 El hashtag #ferguson no batió records como los 35 millones del mundial de futbol, pero llego a los 7,8 millones de twits en 9 días, los hechos que avergüenzan al país del norte tuvieron amplia repercusión y han vuelto a fracturar el frágil equilibrio de dos sociedades que se de desarrollan paralelas pero aisladas una rica, la otra pobre y judicializada.
La aplicación Siri del iPhone se quedó sin sus creadores (Dag Kittlaus, Adam Cheyer y Chris Brigham), que fundaron una nueva empresa luego de la muerte de Jobs, en esta empresa ya crearon la aplicación Viv que promete ser el heredero natural del asistente de Apple. ¿Hasta dónde puede llegar el desarrollo de Siri en Apple sin nadie del equipo original? No muy lejos estimo, ya que Siri sólo puede realizar las tareas que los ingenieros de Apple implementen de manera explícita, Viv por su lado será capaz de enseñarse a sí misma, escribiendo y compilando programas de interface cuando lo necesite, dándole capacidades solo limitadas por los recursos de conectividad, memoria y procesador que tenga.


Microsoft
trabaja contra reloj en Windows 9 (Windows Threshold) el que anunciará el 30 de septiembre, uno de los cambios en esta versión es la inclusión del asistente personal Cortana. Por su lado Google trabaja en darle a su asistente mayor funcionalidad, Google Now no requiere cambiar el sistema operativo una vez instalado el Google Now Launcher se actualizará automáticamente una vez por semana. El último avance del asistente fue mostrar vuelos alternativos cuando se pierde el vuelo o se cancela el que tendríamos que tomar, pero también requiere que los ingenieros de Google unan las partes para hacer cosas nuevas. Parece que son hoy los asistentes el nuevo campo de batalla de las empresas. Así como los buscadores como una guía ayudan a navegar Internet a los que no saben las direcciones de memoria, los asistentes nos ayudarán a usar apps, sitios y apis e integrarlos en tareas. Bajo esta premisa los asistentes como Siri, Viv, Cortana o Google Now son los buscadores del siglo 21.
Google vuelve a bajar los precios de sus servicios en la nube, la baja será seguramente seguida por Amazon y Azure de Microsoft. También incorpora Mesosfera un programa de planificación de tareas y un framework de aplicaciones a su infraestructura pública. Google no quiere exponer a su plataforma propietaria Borg y Omega para su nube pública por eso incorpora un producto inferior pero de código abierto al resto de los mortales.


Google cambia su algoritmo de búsqueda, e implementa algo que había prometido Ballmer para Bing y nunca cumplió, ver la respuesta a la consulta en la misma página de respuesta, donde antes solo había una lista de links ahora se muestra allí la repuesta a nuestra pregunta. También aprovecha y ranquea sus propios servicios muy arriba tratando que nos quedemos en Google el mayor tiempo posible.
Facebook
está probando el rotulo de "Sátira" ya que algunos usuarios piensan que los artículos del sitio de noticias falsas The Onion son verdaderos. Fundada en 1988, The Onion es una organización de noticias en tono de parodia que publica artículos falsos como "Kim Jong-Un nombrado como el hombre más sexy del mundo". Artículos que en algunos casos son republicados por la prensa escrita como verdaderos.
Google lanza Music Key el Nuevo servicio de musica de YouTube con un costo de 10 USD por mes.


Una nueva aplicación, Ignore No More, que bloquea el teléfono cuando se ignoran llamadas de un número, la instalarían los padres en los teléfonos de sus hijos y de esta forma evitaría que los hijos no les contesten las llamadas mientras consumen ávidamente el WhatsApp.

Samsung
compra la empresa SmartThings y alinea con la tendencia la internet de las cosas y las casa inteligentes.
Uber
toma el toro por las astas y se lanza a resolver su mayor problema, la lucha contra la oposición de los taxistas en las diferentes ciudades que trata de agregar y contrata a un lobista de primer nivel. David Plouffe que trabajó con el presidente Obama y va a encarar la difícil guerra de doblarles el brazo a autoridades municipales y gremios de taxistas en todo el mundo. Uber también libera una serie de APIs que permiten integrar la funcionalidad de Uber a otras aplicaciones permitiendo integrar sitios de venta de Pizza que no tienen delivery con la entrega por Uber.
Navi
libera una gran tableta con pantalla de 24 pulgadas para jugar en grupo como si fuese un juego de mesa, diseñada para que los hermanos en lugar de pelearse por la tableta jueguen juntos en colaboración.
HTC
libera el M8 con Windows Phone 8. Que ofrece una mayor duración de la batería que su contraparte en Androide. El hardware es prácticamente idéntico en ambos modelos, con el mismo chasis, pantalla, microprocesador, memoria y almacenamiento integrado.
La visión nocturna como hardware adicional en teléfonos inteligentes. La termografía, una tecnología anteriormente muy costosa que permite a los soldados ver en la oscuridad y los bomberos ver a través del humo, se está moviendo rápidamente hacia el consumo masivo como un add-on que cuesta menos de 200 USD.


Del autor de Flappy Bird nos llega Swing Copters, en caso de que no lo hayan visto, es un juego de diseño simple, adictivo, pero inesperadamente difícil que en esta ocasión implica llevar un hombre-helicóptero a través de puertas bloqueadas por martillos que se balancean.


¿SalesForce
en problemas financieros? Luego de gastar fortunas en adquisiciones que no generan ingresos la empresa que descubrió o invento las aplicaciones en la nube se encuentra en un punto de inflexión a su exitosa trayectoria. Quizás sea el principio del fin para la empresa que nos demostró con su CRM que el HTML podía servir para hacer un sistema y la gente lo podía usar sin quejarse. Extrañamente las acciones suben rápidamente después de los anuncios de pérdidas este trimestre y aumento de las ganancias esperadas para el próximo.
Como anticipo de la nueva película de la Guerra de las Galaxias Episodio 7, Disney libera un nuevo juego móvil StarWar Commander. Desarrollado internamente es un juego de estrategia de combate gratuito dirigido a lo que la industria del entretenimiento llama jugadores medios, personas interesadas en una experiencia más profunda de lo ofrecido por Candy Crush, pero menos que por ejemplo Call of Duty. El juego cuenta con una gran variedad de vehículos clásicos de "Star Wars" y personajes, como Chewbacca y TIE Fighters.


Los asistentes como Siri, Viv, Cortana o Google Now serán los motores de búsqueda del siglo 21
Una aplicación que bloquea el teléfono de los hijos cuando no contestan las llamadas de los padres, Ignore No More
Microsoft ve como se le va el tren y quiere liberar Windows 9 para corregir los errores cometidos
#IBM vende la unidad de servidores x86 a Lenovo para concentrarse en recordar los buenos viejos tiempos
Google cambia el algoritmo de búsqueda tratando que nos quedemos en Google el mayor tiempo posible
Google no quiere exponer a su plataforma propietaria Borg y Omega. En su lugar nos da Mesosfera
El hashtag #ferguson no batió records llega a los 7,8 millones de twits en 9 días
Uber toma el toro por las astas contrata a David Plouffe para doblarles el brazo a municipios y taxistas
Navi libera una gran tableta con pantalla de 24 pulgadas para jugar en grupo
La visión nocturna como hardware adicional en teléfonos inteligentes
Del autor de Flappy Bird nos llega Swing Copters un juego simple, adictivo, y difícil de jugar
Facebook usará el rotulo "Sátira" ya que algunos usuarios piensan que los artículos de The Onion son verdaderos
Salesforce en problemas financieros, el principio del fin para el creador del concepto de nube
Disney libera un nuevo juego gratuito y móvil StarWar Commander